Global Atlantic brings together leaders with deep experience at all levels of our organization – gained both at predecessor companies and throughout the industry.
Allan Levine
Chairman & Chief Executive Officer
Allan Levine, Chairman and Chief Executive Officer, is the co-founder of Global Atlantic. Previously he served as the CEO for the Goldman Sachs Reinsurance Group (GSRG), which became Global Atlantic upon separation from Goldman Sachs in 2013. His vision and strategic direction have guided the company from inception into a leader in the U.S. retirement and life insurance market. Prior to founding GSRG and assuming his current role, Allan was co-head of Goldman Sachs' Firmwide Strategy Group. He joined Goldman Sachs in 1997, and was named managing director in 2002 and partner in 2006.
Rob Arena
Co-President and Head of Individual Markets
As Co-President of Global Atlantic, Rob partners with Manu Sareen in supporting Chairman and CEO Allan Levine in operating the business and executing the company's growth strategy. He also leads the company's Individual Markets business, and also oversees operations and technology. He has more than 25 years of experience in the financial services industry, including leadership of The Hartford's annuity business and President, Hartford Mutual Funds. Previously, he served as Senior Vice President for American Skandia/Prudential Annuities.
Manu Sareen
Co-President and Head of Institutional Markets
As Co-President of Global Atlantic, Manu partners with Rob Arena in supporting Chairman and CEO Allan Levine in operating the business and executing the company's growth strategy. Manu Sareen is also responsible for Institutional Markets business and mergers and acquisitions (M&A), driving company growth through reinsurance and block acquisitions. During Manu's time leading the reinsurance effort for Global Atlantic, the company has completed more than $50 billion in reinsurance and M&A deals. Prior to the spinout of Global Atlantic, Manu was a Managing Director in the Goldman Sachs Reinsurance Group.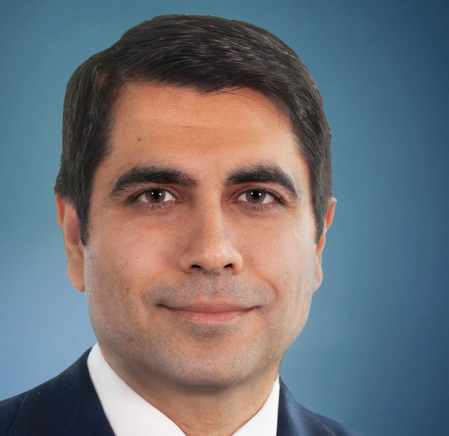 Anup Agarwal
Chief Investment Officer
Anup oversees Global Atlantic's Investment Office, which includes corporate credit, structured products, commercial real estate, operating assets, and private equity investments. He has more than 20 years of experience leading investment and research teams. Previously, Anup was Head of Residential, Commercial and Consumer Loans and Securities at Western Asset Management Company (WAMCO).
Padma Elmgart
Chief Technology Officer
Padma brings 20 years of experience leveraging technology across operational, digital and investment initiatives to her role as CTO. She has served as a senior Chief Information Officer at Deutsche Bank Americas and previously held various investment, risk and technology positions with Barclays Capital/Lehman Brothers, JP Morgan Securities and CitiGroup.
Kevin Felix
President, Investments
Kevin is responsible for steering the success of Global Atlantic's growth-oriented investment goals, managing a dynamic asset allocation process and risk framework for affiliated transactions and overseeing governance of platform investments. Kevin served as the Co-Head of Global Capital Markets and Global Head of Fixed Income, Currencies and Commodities at Scotiabank and the CEO and President of Scotia Capital (USA) Inc. He also served on Global Atlantic's Board of Directors from 2019 until assuming his current position.
Kim Lee
Chief Financial Officer
Kim joined Global Atlantic as a founding member. As Chief Financial Officer, he is responsible for oversight of the firm's Accounting, Actuarial, Risk Management, Corporate Development, Tax and Internal Audit departments. Previously, he worked in Goldman Sachs' Financial Institutions Investment Banking division. Kim graduated from Brown University summa cum laude.
Paula Nelson
Head of Strategic Growth, Individual Markets
Paula joined Global Atlantic from Forethought. Previously, she had served as Chief Executive Officer and President of Transamerica Capital, Inc. and Managing Director for AEGON Financial Services Group, Inc., where she was responsible for business development with AEGON's top institutional business partners in the United States. The Insured Retirement Institute (IRI) named Paula the recipient of 2022 Industry Champion of Retirement Security award in recognition of her extensive work to enhance retirement security in the United States.
Dan O'Shea
Chief Administrative Officer
Dan is responsible for all of Human Resources at Global Atlantic inclusive of talent management and recruiting, compensation, benefits, performance management and all HR needs of the business. Additionally, he has responsibility for business resilience, real estate, corporate services, security, communication, branding and marketing. Prior to joining Global Atlantic, he spent 12 years in Human Resources at The Hartford in roles of increasing scope and responsibility. He earned his undergraduate degree in Psychology at Boston College and a PhD in Industrial and Organizational Psychology from the University of Connecticut. He also serves on the Board of Directors of the Hartford Public Library.
Samuel Ramos
Chief Legal Officer, General Counsel & Secretary
Samuel is General Counsel and Secretary of Global Atlantic Financial Group Limited. He is responsible for Global Atlantic's Legal, Compliance, Corporate Governance, Regulatory and Government Affairs departments. Prior to Global Atlantic, he worked with numerous businesses in Goldman Sachs' Securities Division. He also served as law clerk to Judge C. Arlen Beam of the Eighth Circuit Court of Appeals before joining the New York law firm of Sullivan & Cromwell, where he specialized in securities law.
John Rugel
Chief Operations Officer
John is responsible for oversight of Global Atlantic's in-force and new business insurance service and operations. He served as Senior Vice President of Life and Annuity Operations at Allstate. With more than two decades in the industry, his experience spans underwriting, new business and operations leadership positions at Allstate, MetLife, American General/AIG.
Philip Sherrill
Chief Strategy Officer
Phil is responsible for strategy, mergers and acquisitions, investor relations, capital raising, and other corporate finance areas. Prior to assuming his current role, Phil worked closely on the company's foundational transactions and its entry into current lines of business. A graduate of Harvard College, Phil worked in Goldman Sachs' investment banking division before joining Goldman Sachs Reinsurance Group (GSRG), the predecessor to Global Atlantic prior to its separation in April 2013.
Edward Wilson
Chief Risk Officer
Edward is responsible for enterprise-wide risk governance and oversight. Previously, Edward held a variety of roles in more than 26 years at Goldman Sachs, including Global Head of Risk for the Prime Services business, oversight of risk in the Equities Division, and various trading roles in the FX, Equity Derivatives and Interest Rate Products businesses.